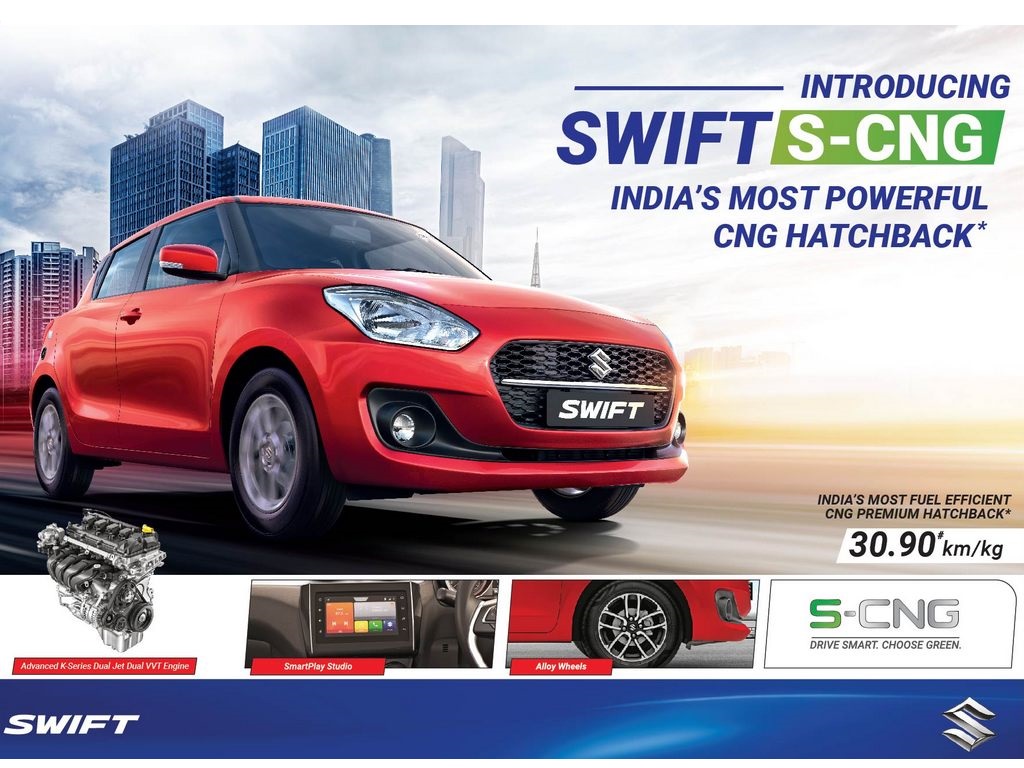 Maruti Suzuki Swift S CNG price goes up to Rs. 8.45 lakhs (ex-showroom) for the top-end ZXI S CNG variant
The CNG version of the Swift, designated the Swift S CNG, has been released for the first time by Maruti Suzuki (ex-showroom). Only the VXI S CNG and the ZXI S CNG are available as options.
The ZXI S CNG costs Rs. 8,45,000, which is a premium of Rs. 95,000/- above the comparable petrol models (ex-showroom).
The 2017 Swift is the most powerful CNG hatchback in the nation thanks to its new 1.2-liter K-series dual jet, dual VVT engine, which produces 76.4 horsepower at 6000 revolutions per minute (RPM) and 98.5 Newton-meters (Nm) of torque at 4300 RPM. Efficiency of 30.90 km/kg in fuel use is stated.
In gasoline mode, the motor produces 88.5 horsepower at 6000 revolutions per minute (RPM) and 113 Newton-meters of torque at 4400 RPM. Maruti Suzuki now offers CNG for nine different models.
The manufacturer claims the engine and suspension of the Swift S CNG have been fine-tuned to provide increased engine longevity, improved fuel economy, and increased safety.
According to the company's statement, it has two independent electronic control units (ECUs) and a sophisticated injection system to optimise the air-fuel ratio for maximum efficiency.
Stainless steel pipes and couplings have been installed throughout the CNG construction to ensure its integrity and prevent corrosion and leaks of any type.
The Swift is the 9th Maruti Suzuki to get CNG
In order to prevent accidents caused by short circuits, integrated wire harnesses have been installed, and a micro switch prevents the vehicle from starting up while being refuelled with compressed natural gas.
The Alto, Wagon R, Celerio, Dzire, Ertiga, Eeco, Super Carry, Tour S, and Swift join the other 8 Maruti Suzuki cars that run on compressed natural gas with this introduction. Greater than one million S CNG cars have been sold by the firm.
Maruti Suzuki Subscribe also offers ownership of the new Swift for a monthly all-inclusive charge beginning at Rs. 16,499/-.
Maruti Suzuki Swift S CNG Prices:
| Variant | Price |
| --- | --- |
| VXI S CNG | Rs. 7,77,000/- |
| ZXI S CNG | Rs. 8,45,000/- |
All prices, ex-showroom